We have recently invested in a solar powered hot water tank which holds 300 litres of hot water, (with a back up boiler for those few cloudy days) so that our guests will never run out of hot water. However, we encourage our guests to shower economically to avoid wasting water.
We provide reusable dish cloths & scourers for your pots and pans and instead of providing plastic bottles of mineral water you will find a lovely glass bottle of tap water waiting for you in the fridge when you arrive. We hope that guests will get into the habit of refilling the bottle and putting it in the fridge and perhaps will start doing this at home too!
We provide lunch boxes & refillable bottles for you to take drinks to the beach with you so there is no need to buy products in single use plastic wrapping or bottles. We have also installed pump dispensers of shampoo, conditioner and shower gel to the avoid the use of single use plastics.
Our housekeepers use eco-friendly cleaning products and our new washing machines use only the minimum amount of water necessary.
We provide shopping bags and a wheel along crate for you to take to the shops so that you don't have to buy plastic bags when you go shopping and encourage our guests to sort and recycle rubbish. We provide beach toys, inflatables and a body board for the children so that guests don't have to buy a new bucket and spade each time they come and avoids having plastic items abandoned on the beach. We always pick up at least one piece of plastic on the beach each time we go and would like to encourage guests to do the same!
We are aware of the impact of the internet on the environment and have taken steps to minimise our carbon footprint.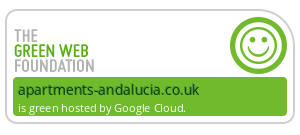 Casa Christabel y Casa Annabel - only
Our aircon is monitored so that it cannot be accidentally left on when you open the door or go out for the day.